It's tough times in crypto land. And the recent Iron Finance rugpull which happened shows that no one is immune to getting wrecked even Mark Cuban.
According to Cointelegraph, the Billionaire Investor and TV star said:
"There should be regulation to define what a stablecoin is and what collateralization is acceptable. Should we require $1 in U.S. currency for every dollar, or define acceptable collateralization options, like U.S. treasuries."
Mark Cuban is certainly no noobie to investing. Although he is new to the crypto space, he has made a fortune through investing and his other businesses. And even with all his business smarts he did forsee this event happening. Now, Mark Cuban is calling for regulation.
Titan Token, Iron Finances native token pulled nearly a 30X in price movement in the last 30 days. It then totally crashed and lost a lot of investors huge amounts of money.
As you can see in the chart above, the price went from $60 to near zero in a single day. This is one of the biggest token crashes in crypto in months and it will certainly not be forgotten considering that a big player, Mark Cuban, took a huge loss here.
How could TITAN collapse?
MISSNATOSHI, a popular crypto influencer on Twitter made a post that assessed the situation very clearly. This is what she posted: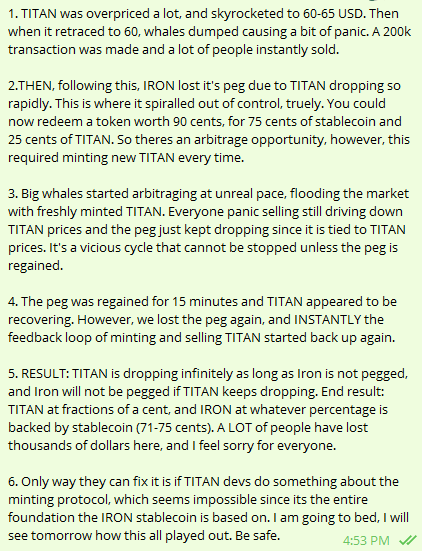 Essentially there appeared to be an infinite supply of tokens as whales were arbitraging at an "unreal pace". And the stablecoin pegged to TITAN kept dropping causing a lot of retail investors and whales alike to panic sell their TITAN tokens. According to Cointelgraph.com:
Whales were able to buy IRON at $0.90 and redeem them for $0.25 TITAN and $0.75 USDC, which temporarily pushed the price of TITAN to around $50. They then proceeded to cash out their profits which sent the price crashing.
There appears to be a lot of dishonesty about the token supply of IRON and how their arbitrage worked. According to experts on SPECTRE, a voice chat from yesterday crypto investing and trading experts agreed that IRON finance was misleading and dishonest in their white paper. They were not clear about the seemingly infinite amount of tokens that could be minted. Once whales began minting tokens at the "unreal pace" seen above, whales dumped at a pace that crashed the price big time.
What This Means
As we've said before many times here at Blockzeit, crypto is a totally different game now than what it was a year ago and all years that preceded last year for that matter. There were no billionaires like Mark Cuban making high risk plays. Mark Cuban has a lot of influence in culture and business. His fame and connections will get the ear of lawmakers and politicians if he chooses to do so about crypto regulation.
What will the stable coin regulation that Cuban is calling for mean? Regulation has it's positives and also it's drawbacks. There can be good things that come from regulation that can protect retail and institutional investors. However, regulation also comes at a big cost. Once regulation from governments begin, it could change the crypto market entirely, and that won't necessarily be a good thing.