A recent survey from Crypto Vantage revealed some interesting details about how many Americans store their digital assets and keep them safe. The studies indicate that many investors do not have enough knowledge on how to keep their crypto safe.
The two biggest risks people have encountered is remembering their password and falling prey to crypto scams. 30% of the participants in the study revealed that they experienced a crypto scam themselves losing an average of $540 per person.
Most popular wallets
The study analyzed what wallets the participants in the study used and trusted. One of the biggest issues study participants revealed was their trust in wallets to store theit cryptocurrency. The most popular crypto wallet among participants was SoFi. Robinhood was also another popular application that participants reported using. Both Robinhood and SoFi are not actually crypto companies. So, many people who own crypto as demonstrated in this study it appears don't understand the industry very well. Most participants here in the study aren't using the best technology to keep their assets safe. This indicates their knowledge of the industry is lacking. That being said, this is a good example of how much people still need to learn.
Likely people use these companies like Robinhood and SoFi because people still have trepidation of using crypto applications. They feel safe sticking with companies they are familiar with.
How people keep their crypto keys stored
This is an interesting section. Here you can see the various ways which people keep records of storing their digital assets.
It's interesting to see the ways people manage their passwords, because we're looking at how people backup the security of their own personal bank accounts so to speak. One would think that taking a screenshot or using a password manager might compromise the security of the account. Additionally, it is unwise to share this information with any other person no matter how much they can be trusted. Memory seems like a good back up plan, but it shouldn't be the only back-up one has. The best back up is to have a handwritten record of the password stored away in a safe place that won't be forgotten.
Most common scam occurences reported
Approximately one third of all the participants in the study had reported falling victim to scams with average above $500 lost per person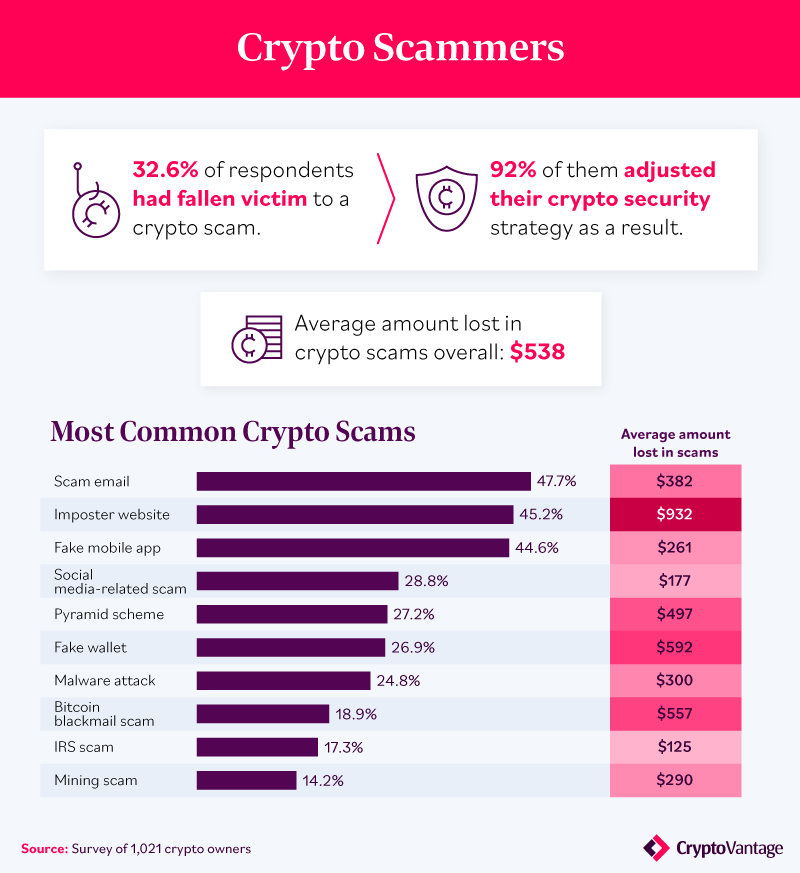 The most reported scams were email scams, imposter websites and mobile apps. Malware attacks were also reported. These are a big risk as someone can send you malware through an email or message. It's important to be cautious when opening messages and clicking links. If anything appears suspicious, one should never bother opening. Imposter websites are unfortunately a big issue. One way to prevent this is to always bookmark the app or exchange one uses so they never accidently navigate to an imposter site. As long as crypto remains like a wild west financial world, there will be endless amounts of opportunists looking to prey on naive investors.
Many lose their assets from panic selling
Surprsingly though the study revealed that the most common way people lost their crypto was was not a security issue, but in fact, it was panic selling their assets. One way to avoid panic selling is to not to be over-leveraged in a position and only to invest in projects you really understand and believe in. Often times when investing, people will have more money invested than they can afford to lose. This can cause one to make an emotional decision when the markets are acting volatile and it's one of the easiest ways people loose their crypto as displayed here in this study.
Final thoughts
If anything, this study shows that through educating oneself, one can minimize the risk in investing in cryptocurrencies. Knowing what risks are out there and knowing how to counter them is the place best to start when first learning about crypto.
In order to keep your crypto safe you can read our following articles about Cold Wallets and Hot Wallets.